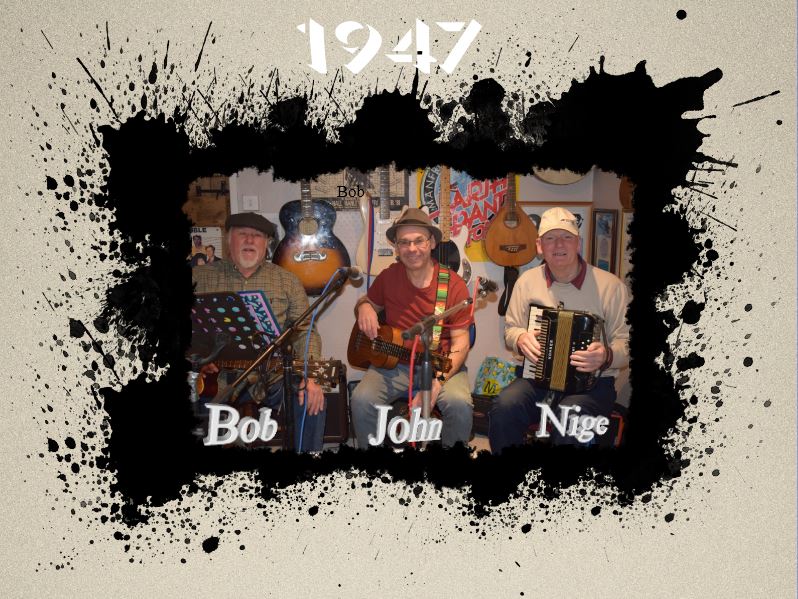 The 1947 is Bob's latest three piece band and in common with both Lost in the Mist and Bob's solo work continue to provide a great mixture of outstanding songs and popular hit songs. These comprise of various diverse genres, as well as our own self-penned compositions. The 1947 are also able to work with you to compile bespoke song lists to suit your exact requirements.
As the 1947 we perform at house gigs, parties, clubs and concert halls all around the North West.
The band members have worked alongside Bob for decades in a number of his previous bands.
Band members John and Nige are both very talented multi-instrumentalists, having played in various bands over the years.
John has known Bob since the early 1970's at this time John was an accomplished DJ and their paths crossed when John was providing the DJ sets in support of Bob's live concerts. John became a fan of Bob's music. On realising John was also a very talented musician being able to play double bass and bass ukulele Bob couldn't resist but offer him the opportunity to join the band. John jumped at the opportunity and their long history can be seen in the albums section on this site.
Nige, like John is also an extremely talented multi-instrumentalist playing lead guitar, mandolin, harmonica and the accordion. He also provides lead vocals on numerous tracks. It is worth noting Nige has also had a successful musical career having played on many of Bob's CDs and albums over the past 30 years. Also he has been a member of a number of regional rock and folk bands, performing throughout the U.K.
1947 – Concert at the Swan Inn, Congleton, Cheshire